How to learn SEO
Businesses have diverse marketing objectives, but they all want to increase income, which is what SEO is all about. In this Nelotech article, you will discover how to lean SEO.
SEO allows you to rank at the top of search engine results pages (SERPs), resulting in revenue-generating traffic.
Before you can fully comprehend this, you must first comprehend the inner workings of search engines.
"Spiders" or "bots" crawl the Internet to identify, index, and rank pages for Google and other major search engines. When someone types a search term into a search engine, it returns a list of websites that have relevant information.
Your site must be found by search engines, therefore that should be your first priority. You can use Google's URL Inspection Tool to request that your URL be indexed, and Bing's Bing Webmaster Tools to request that your URL be indexed.
Selecting the terms you want to rank for — referred to as keywords — necessitates investigation. You may get your site in front of a larger audience if you choose keywords that people commonly look for and that are relevant to your business.
Long-tail keywords, which span three or more words, and short-tail keywords, which contain only one or two words, are the two types of keywords. Long-tail keywords narrow the focus of your pages and increase interest.
If someone searches "where to buy magazines," for example, it's more specific than "magazines," so you can better appeal to their expectations.
How to learn SEO
Audio version
DOWNLOAD how to learn SEO
So, how can you find out what the most popular searches are in your industry?
As you learn SEO, you use keyword tools like Keywords Everywhere, Soolve, and KeywordsFX. For a little healthy SEO competition, you can also look at the keywords your competitors utilize.
Because you'll incorporate keywords into your content, titles, meta descriptions, and URLs, keywords are essential for SEO. Learning how to conduct keyword research is an important first step in your SEO journey.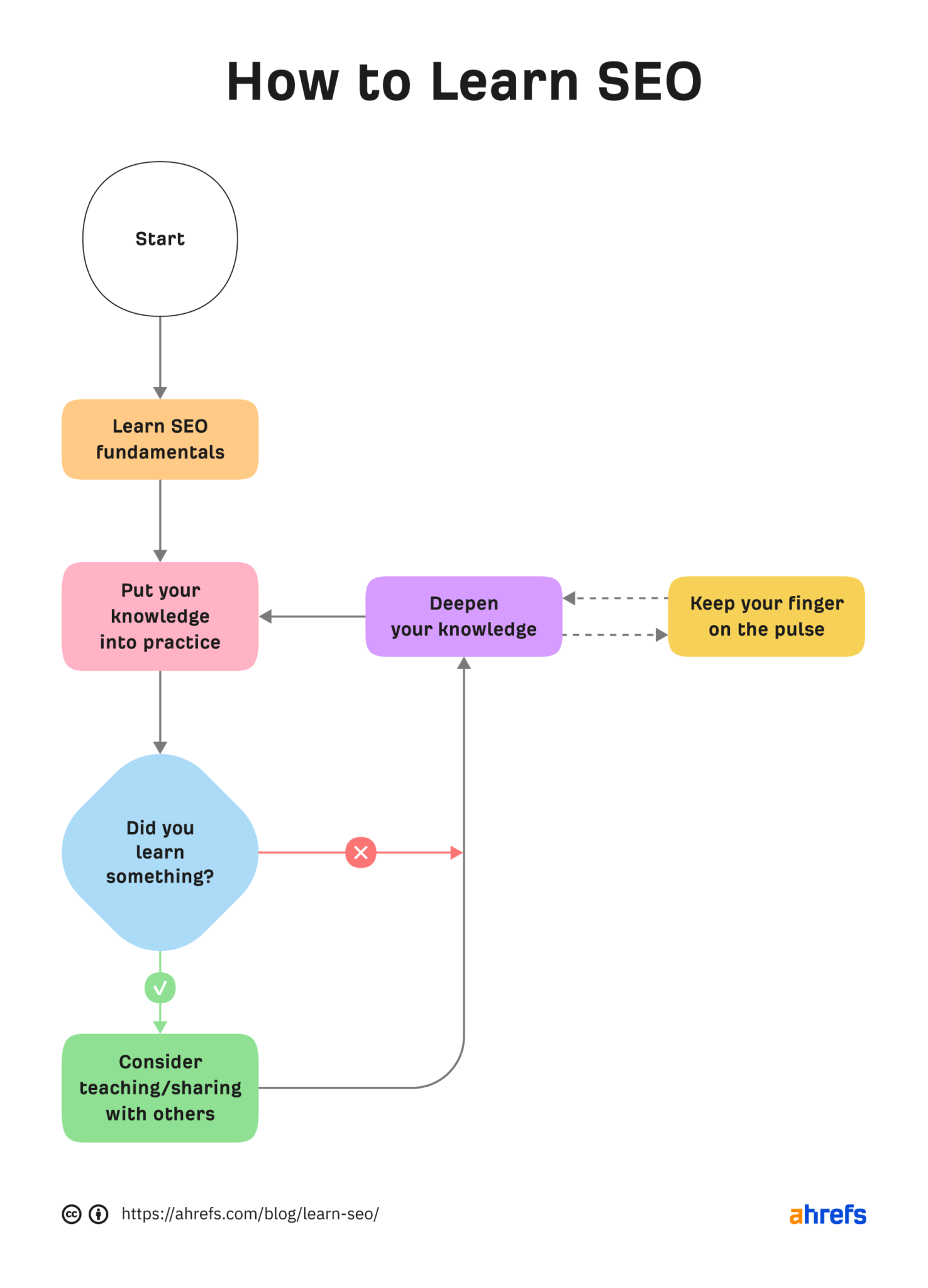 There are two types of SEO: on-page and off-page. What happens on-page is something you can control when you study SEO, however what happens off-page is up to other websites.
It's no surprise that on-page SEO is a more straightforward topic to cover and comprehend. To gratify users and search engine bots, you handle multiple sections of your pages.
Formatting (such as H1 and H2 tags), keyword usage, navigation, URLs, meta descriptions, and picture descriptions or alt text are all part of on-page SEO.
But it goes much beyond this small set of criteria, which necessitates a great deal of time and effort.
You must rely on other people's opinions of your internet material for off-page SEO. Off-page factors include authoritative links to your site, mentions of your company, and social media promotion.
It's critical to check the boxes on both fronts if you want to be successful with SEO.